How to Add Live Streaming Video on Your Website (2022 Guide)
Are you looking for advice on how to stream video on your website? Wondering how to add live streaming video to your website and what technology do you need to do it?
Without a doubt, adding a video stream to a website can be a serious deal-breaker in engaging an audience and even, generating conversions and sales.
According to Conviva's State of the Streaming Industry report, for example, the amount of live stream video visitors watch on websites has grown by 65% between 2017 and 2018.
What's more, consumers spend a considerable amount of time watching live streaming videos or logging in to streaming platforms. According to predictions, the total number of minutes spent watching video content per day should reach 93 this year.
Finally, experts predict that live streaming will become a $70.5 billion industry by next year!
In this article, we'll show you how to place streaming content on your website and engage the audience with real-time live video.
Let's begin by reviewing the different methods for adding videos on your website.
How to Embed Live Stream Video on Your Website
We live in amazing times. We can easily publish a live stream by adding a simple embed code to the website. Or use third-party solutions like Facebook Live or YouTube Live.
But that also means that there are many different options available, and I believe that you should know them all to make an informed choice about how you're going to live stream from the site.
So, below is an overview of the different ways to embed a live streaming video on a website.
Methods covered:
Using an embeddable player and a streaming video platform.
Using streaming services like YouTube or Vimeo
Let's go through them in turn.
Method #1. Using an Embeddable Player Capable of Playing Live Streaming Video
This is by far the simplest option of all. In this method, you stream your content live through a dedicated player embedded on your website. Also, worth to know is that, in this method, the video content often simulates live streaming. The video content does not come directly from a camera but has been pre-recorded and simulates live streaming in a 24/7 linear channel.
A typical player looks like this (although keep in mind that you can customize its appearance and branding.)
Most of the players support the main live stream protocols. Viloud Player, for example, is compatible with these live streaming protocols: HLS (.m3u8) and DASH (.mpd).
Later in this guide, we'll show you how to embed the player on the website and start streaming to your audience.
Method #2. Using Streaming Platforms
Many free platforms also allow you to add a live stream to your website. Vimeo, YouTube, Dailymotion, Facebook Live allow you to stream from your website and host your video content.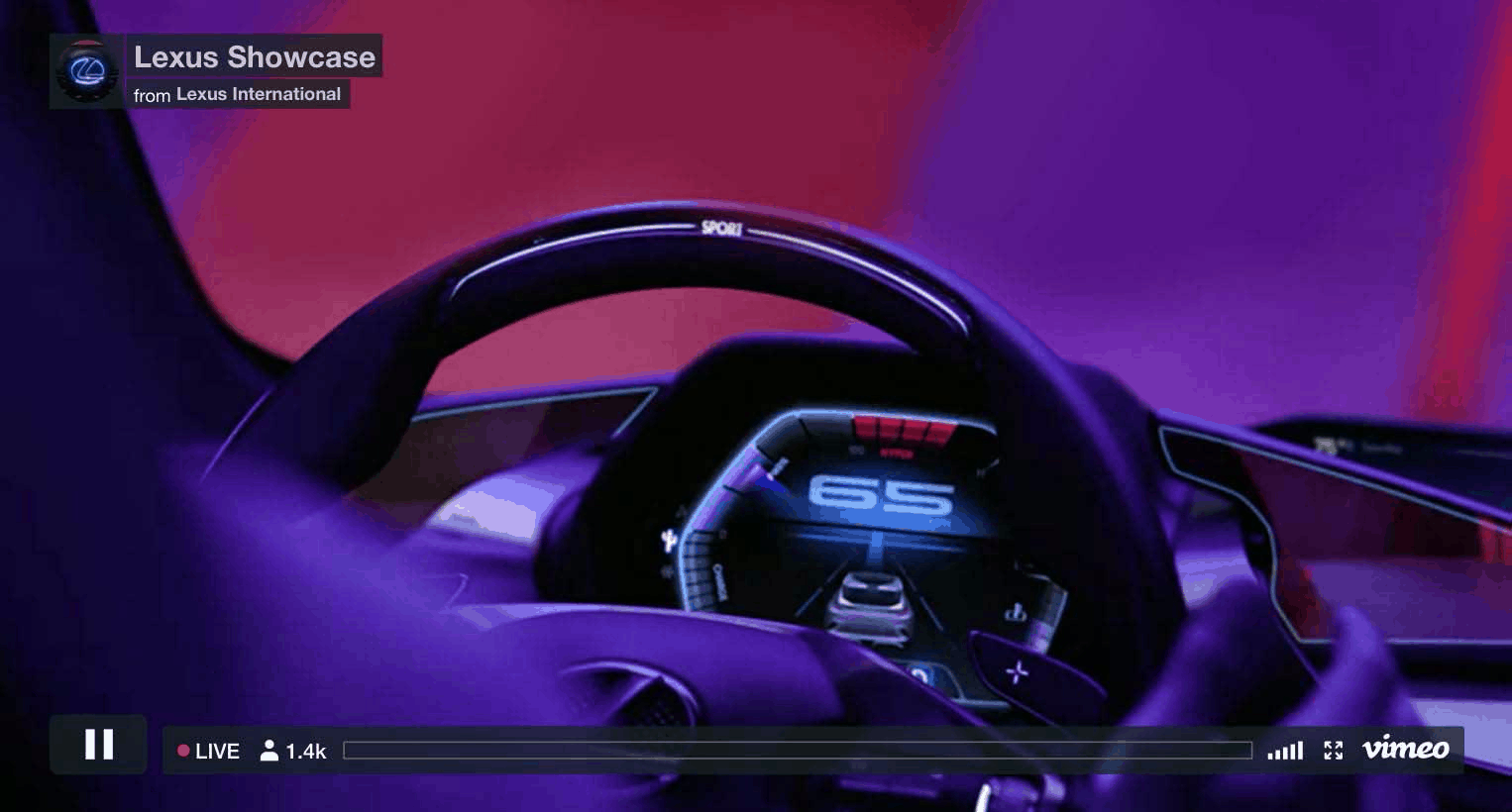 In the case of those services, you also have to add an embed code to the website to display the live stream player.
One disadvantage of using those platforms, though, is the limited ability to control the branding and many other parameters of the players.
How to Plan the Live Stream on Your Website – 4 Questions to Answer
Before launching the live stream, there are some questions you should answer.
First of all, what sort of content will you be streaming? Knowing it upfront will help you set the stage for the live stream, prepare everything that you need, and ensure that you have the right setup for the project (more on this in just a second.
Also, who is your intended audience? Whom are you trying to attract and engage with your live broadcast?
What are your goals for the stream? What are you trying to achieve with the project?
Finally, you should consider the budget as well. The amount of money that you can dedicate to the stream will affect its setup, the equipment and live streaming software, including video platform and video hosting, that you'll use, and many other aspects of the project.
With all those questions answered, you can move on to planning the live stream from your website.
To help you with that task as well, I've prepared a short checklist of the steps required to launch and deliver the project.
(Please note, in the following sections, we're going to discuss many aspects of those points in detail.)
Live Stream Preparation Checklist
Although you're going to be streaming live in real-time, it's best to have at least a rough agenda for the stream. Even a simple outline of what happens when will help you maintain a structure and keep the video interesting.
I guess it goes without saying that you need to have the means to record and stream both audio and video and stream it on your website. TIP: It's a common mistake to focus on the video quality only, and disregard the sound quality. However, the quality of your audio output can make or break the live stream.
We've discussed the available options for adding the live streaming video to your site earlier in this guide already.
The success of your stream largely depends on the quality of your internet connection. Uploading the video stream in real-time requires a fast and stable connection.
Embed code. Finally, get the embed code for the method you've chosen – either a dedicated player or third-party platform – and ensure that you CSS and HTML code is optimized to display it properly. Also, in the case of using a custom player like Viloud, set up your branding on the player to promote your brand through it as well.
Planning Your Live Stream
Live streaming is a great way to showcase your brand and add a little personal touch to your marketing. But, it's also something that shouldn't be done on a whim. An unplanned video is, most likely, going to come across as chaotic, and unless that's the image you want to convey to your audience, it's never a good idea.
So, before doing anything else, consider what type of event you're streaming. Is it a product demo? A product launch? A tutorial or a how-to video? Or are you hosting a Q&A session with your audience?
Knowing the type of event will inform its structure and the type of information you'll be covering.
With the plan at hand, you can move on to the next items on the checklist.
What Live Streaming Hardware You Need
It goes without saying – You need a good live streaming recording equipment to deliver the video to your audience. Your hardware setup should include, at minimum:
Video camera. You could use a simple webcam or a complex, 4K ultra-HD camcorder, depending on your budget. Ideally, if you're using a camcorder, choose one with an HDMI connection to ensure the highest quality stream.
Microphone/Audio equipment. Naturally, you can rely on the microphone built into your camera. However, these do not always deliver the best sound quality. Plus, their proximity to the camera may result in capturing equipment noise. Ideally, invest in a microphone that you and your other guests can wore on the lapel or at least have one that's held away from the camera.
Choosing the Live Streaming Encoding Software
A camera and a microphone will help you capture the content for your stream. However, most such devices aren't designed to stream content. For that, you need an encoding software to take care of this part of the process.
What does video encoding software do?
Well, video encoding is a process that prepares and converts a video to a specific format that can then be streamed live.
In other words, the encoding process changes your video from the format used to record it into a format that can be transmitted over the web in real time.
If you're looking for recommendations of an encoding software, check this page for a full list.
Choosing Video Hosting
To add a live stream to your website, you'll also need a video streaming platform to host your videos and live stream. You have a number of options in this area.
For one, you can opt for a free solution like Facebook Live or YouTube. Although these solutions will have their limitations, they can provide the hosting you need.
Alternatively, you can host your videos with video streaming platforms. When choosing the platform, make sure that it can output the stream in the format your dedicated video player supports so you can embed it on the site.
How to Embed a Live Stream Video on a Website
With all of the theory out of the way, let's look at the exact process for adding streaming video to the website.
For the purpose of this walkthrough, we're going to use our player – Viloud – to show you how it's done.
Because you can live stream in two ways – actual live streaming where the content comes from a video input or simulated live streaming (pre-recorded content simulating a live stream,) we're going to include steps for both options in the walkthrough. Note that the second option – simulating live stream – is the most commonly used by our users.
Step 1. Create an account and log in. The process takes only a second and you can be up and running almost right away.
Step 2 (for simulated live streaming.) Create a channel for your content and add pre-recorded videos.
Step 2 (for live streaming.) Add a live stream link (in HLS or DASH format) to the content, and then, embed the live link directly (without having to create a channel.) In this case, Viloud would operate as a live streaming player.
Step 3. Click the "Embed" button to get the embed code.
Step 4. Specify your player's configuration. You can define the size, playback, and display options.
Step 5. Copy the embed code.
Step 6. Paste the code to your website where you want the player to appear.
It's that simple!