7 Best Video Hosting Sites and Platforms [2020 Comparison]
Are you researching video hosting for your brand or project?  Do you want more information about video hosting sites to help you choose the right platform for your video content?
It goes without saying; video marketing has become a major promotional strategy for brands. According to SmartInsights, 92% of marketers admit that video is an important part of their strategy.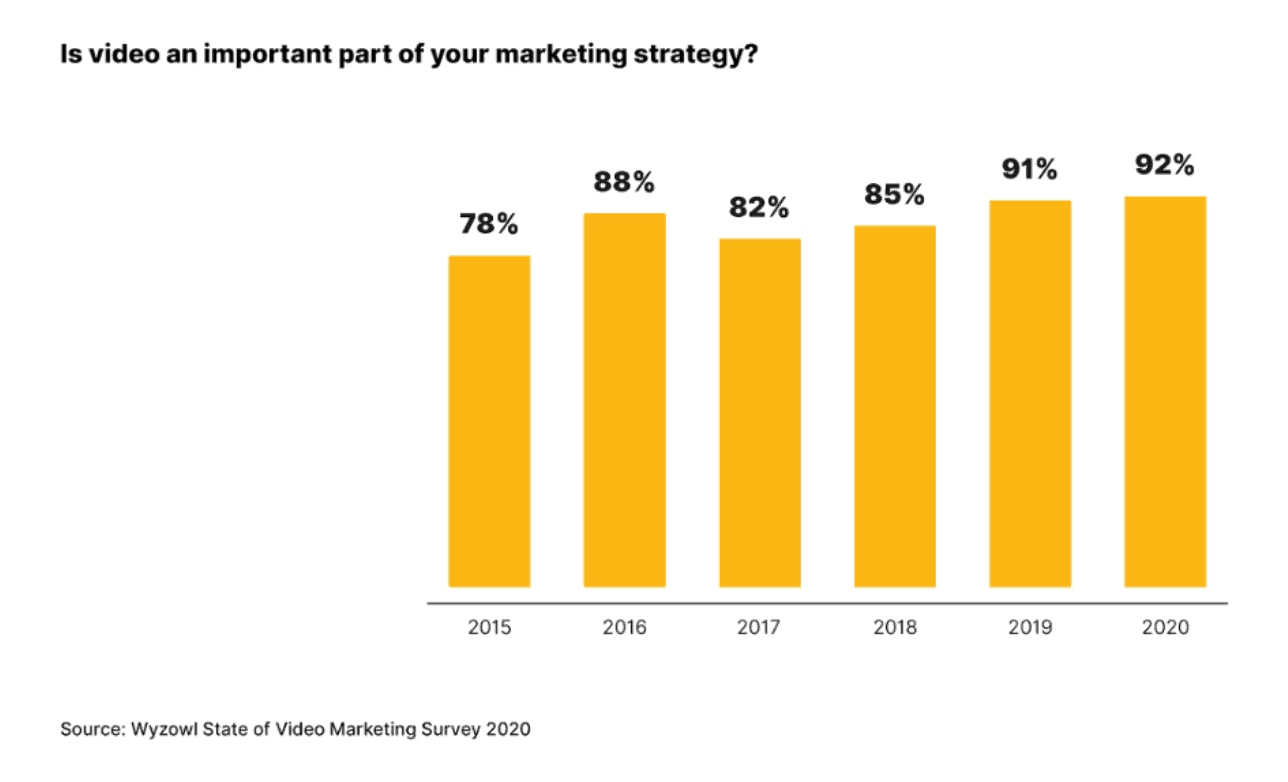 What's more, 88% of them also admit that video provides brands with positive ROI, according to the same source. 
But, to avail of this amazing opportunity successfully, you need more than amazing video content. You need a place to put it for your audience to see. 
Now, before we discuss video hosting in more detail and look at various ways to share videos with your audience, we must get one thing out of the way…
Why do you need video hosting?
Let's face it; You could, technically, just host a video on your website, without using any video hosting service. 
And you could, potentially, upload videos to your server and embed them on the website from there. 
Unfortunately, this, probably, would be the worst option of all. In fact, it could have a disastrous effect on your marketing. 
Why, because of two things – bandwidth required to stream videos on a website and video file size. 
You see, video files tend to be huge to host and stream. Uploading them to your server will quickly eat up your monthly bandwidth allocation and space on the hosting server. As a result, not only people might not be able to access the video, using up the bandwidth allocation will, most likely, prevent visitors from seeing your website altogether!
Other issues with hosting a video on your server relate to technical aspects of managing such a project – compatibility issues between different video file formats, speed issues resulting in drops in video quality and more. 
Video hosting sites specialize in providing different options to host videos, and in the process, take care of all those problems. Many of them also provide you with additional features (like video analytics or an easy way to embed videos, for instance,) taking your video marketing to a whole new level.
Which brings us to our main topic…
What is video hosting?
Video hosting allows uploading and storing your videos online to be able to present it to viewers. 
In principle, with video hosting, you upload a video to a server to host it there, and access it to distribute to others – be it by pasting an embed code on your site to place an embeddable player there or giving your audience direct access to the file.
As we discussed above, such hosting can happen on your own server. All servers allow uploading video file formats, and thus, your own server could become a video hosting solution, although there are more cons of using this method than not. 
To avail of the video opportunity fully, you should use a dedicated video hosting site. 
So, let's discuss some of the best solutions on the market today.
The best video hosting sites for brands and marketers
There are two types of video hosting platforms – free platforms and premium options. 
Free options, typically, offer the ability to host videos, distribute them to the world, embed videos, and, depending on the platform, also live stream videos.
Premium solutions add other features like video analytics, the ability to add your own branding to the video player, unlimited bandwidth, calls to action, and more, increasing your marketing opportunity further.
YouTube
Without a doubt; YouTube is one of the most popular websites on the planet. Touted the world's second search engine. The site boasts 2 billion logged-in monthly users, and people upload 500 hours of video to the site every minute.
YouTube allows you to upload and host videos on the site for free. However, since you don't pay for hosting, the site will add advertisements at the beginning of your clips (and will, sometimes, slow some ads into the video as well.) Your videos might also have ads overlaid on top of the content. 
Also, YouTube allows you to upload free videos only up to 15 minutes in length unless you join the YouTube Partners Program (and gain the opportunity to also earn revenue from ads showing on your videos.)
Vimeo
Vimeo is another video hosting service that allows you to upload videos for free, although the site also offers premium options (more on this in a second.) It is similar to YouTube, although its audience is significantly smaller.
Vimeo Basic, the site's free membership option allows you to upload 500MB of video content per week up to a total of 5GB of account storage space. The plan also restricts your embedding features to the most basic options. You can also upload only 10 videos per day. 
Having said that, unlike YouTube, videos on Vimeo are ad-free. The site does not limit your bandwidth either and the free plan offers the option to password protect your videos if needed.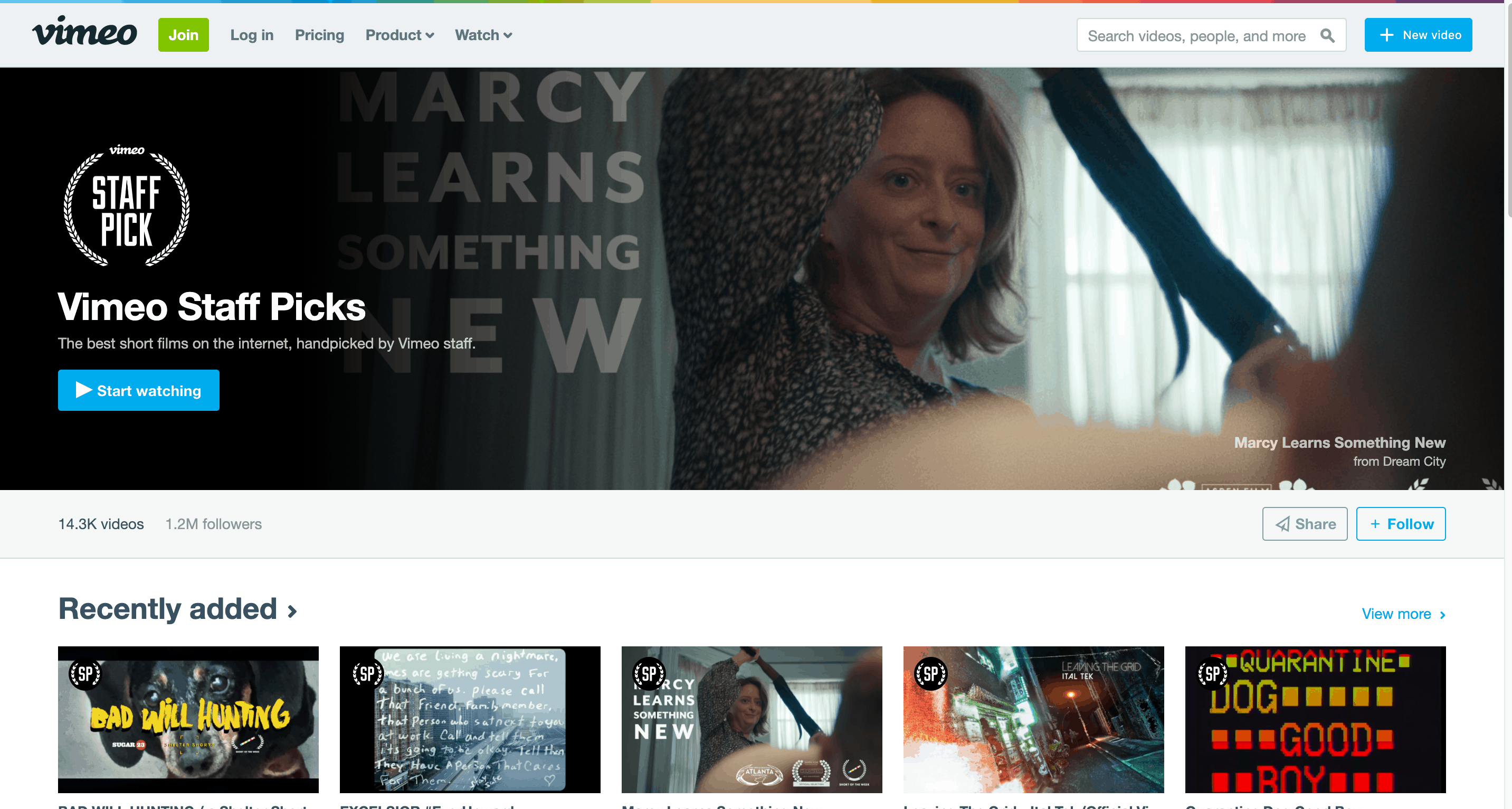 The most popular premium (paid) video hosting platforms for marketers and businesses alike include Viloud, Wistia, Vidyard, Brightcove, and also Vimeo Premium. Let's see what makes each of them special.
Viloud
Viloud is an advanced video hosting platform allowing you to upload videos to the cloud easily. But, aside from offering everything you'd expect from a video hosting site, Viloud offers some incredible features:
With Viloud, you can upload multiple videos at the same time. The site accepts videos in all major file formats and does not restrict length or file size. 
Also, when you upload a video, it gets automatically encoded to an adaptive bitrate for optimal delivery and minimal buffering. 
Finally, the site also operates a global content delivery network (CDN) to allow customers to deliver videos to their audience faster. 
Aside from video hosting, Viloud is also a popular video platform, allowing brands and marketers to create linear and on-demand TV channels from multiple sources and embed the player on any website or web app.
This is how the platforms player looks like (note, you can customize it fully and add your branding and logo to the player.)
Pricing: 
Viloud offers a free plan that allows you to launch one channel on the platform. Premium plans start at  $12 per month if paid annually with a whole range of amazing features. 
Wistia
Wistia has a free plan, however, it is severely limited (that's why we didn't include it in the free section.) The paid plan, however, offers a range of features for video marketers – easy upload and video sharing, to name a few. 
However, Wistia's paid plan limits your hosting to 10 free videos you can embed anywhere. Any additional videos you want to host will cost you extra, making it a solution for wealthier brands only.
Pricing:
Wistia's paid plan costs $99 per month and includes 10 free videos, 1 channel to share via public Wistia link, and up to 250 channel subscribers. 
Vidyard
Vidyard offers an option to host unlimited videos for free. However, your ability to embed them on the website is limited, depending on the price plan you choose. The free option allows you to embed 5 videos only. Paid plans allow embedding different amounts of video content, depending on the plan. 
Pricing
Vidyard plans run from $15 to $850 a month, depending on your needs. 
Brightcove
Brightcove is a premium video hosting platform offering a whole range of features for marketers and brands. The platform offers the option to upload and host videos, although, the company does not make it clear whether there are any limitations to the platform, and how much do you have to pay for video hosting. 
Pricing
No information provided on the website.