February 2019 new features: weekly scheduler
We're happy to announce the launch of the Weekly Scheduler, a new feature in Viloud that allows you to schedule the content at a fixed time on a weekly basis.
If you already have a scheduled channel created and you want to convert it to weekly, just edit it and change the scheduler duration. When you change this, all scheduled content will be cloned to each day of the week so you can edit each day separately. If you prefer to keep the channel as daily, your programming will be repeated every day.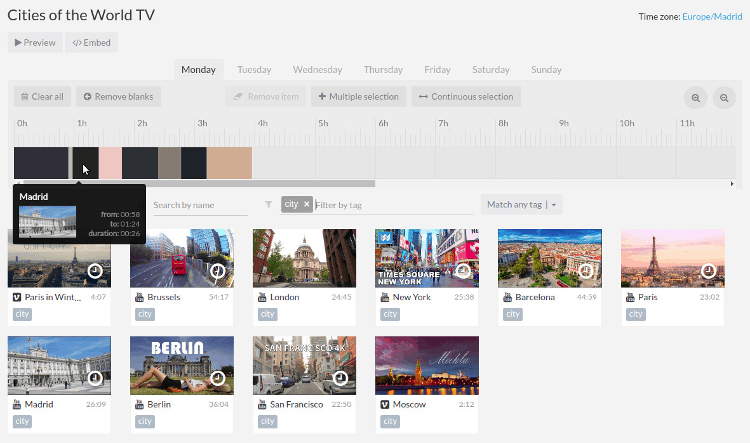 Using the Scheduler
Now when you go to the Scheduler page, you'll see a few new improvements being easier to manage and more powerful than ever, including the following functionality:
Keyboard support: Left/Right arrows, Ctrl, Shift and Delete keys.
Remove all scheduled items.
Remove all blank spaces.
Select and remove multiple items.
Add the content directly to the end of the list.
Get embed Scheduled channels today
Embed scheduled channels is available to all user on a paid Viloud plan. If you're new to Viloud, create an account and get access to all free features, you will be able to create and manage a scheduled channel but not embed it. If you're on our free plan and want to take advantage of the full Scheduler feature, then you will need to upgrade your account.
Need more help? See how to use the scheduler on our help guides.