This is How to Stream Video in 2021 [Video Streaming Guide]
Posted on

23 March, 2021

in News
Are you interested in learning more about video streaming?
Looking for more information on how you could stream videos online?
Video streaming has become easier than ever. In fact, anyone can broadcast videos online today, and the process is also a great way to make your brand's content more approachable and helpful.
So, there's absolutely no reason why you shouldn't start using software to live stream content for your business.
But if streaming video still sounds too complicated for you, keep on reading. From the guide below, you'll learn everything you need to know about how to stream video on your own.
What is Video Streaming? 
First of all, what is video streaming? 
Streaming is the transmission of data from a server to a client. In other words, video streaming is the consumption of video content over the Internet.
Instead of downloading a video file to watch it later, you are able to access it online to watch it in 'real-time' in high quality via streaming services.
Video streaming has become very popular since it makes the content more accessible without the need to store it anywhere. All you need is an Internet connection and you can watch an online video instantly.
There are different ways to stream a video:
Streaming

: Video streaming takes place when a video is produced before it's uploaded to the hosting platform. 

Live Streaming

: Live video streaming is taking place in real-time with the recording reflecting the actual broadcasting. Many big events rely on live video streaming to be accessible to as many people as possible who can watch live as the event happens. The most common examples of this are events streamed via Facebook live, for instance.

Video-on-demand (VOD)

: VOD streaming allows users to choose the content they will watch at their own pace.  
All forms of video streaming are popular in different ways and they can be very helpful for your business depending on the reasons you want to start a streaming channel.
How to Stream Video on Your Own
It's very easy to stream video on your own without necessarily needing professional equipment or a big budget. 
You can even get started by using your phone to share videos online with your friends.
If you want to stream video as a brand, the first thing you need to consider is the type of content you want to broadcast.
There are many ideas on what you can stream:
Behind the scenes

Product announcements

Team activities

Campaign launch

Interviews

How-to videos

Customer case studies
Streaming is not necessarily different from other videos. All you need to think about is whether you want to create your own channel to stream more consistently.
Video streaming can turn your brand into a broadcaster in just a few minutes. It is a great opportunity to stand out with authentic content and explore new business opportunities.
Now let's think of the logistics on how to stream video. 
The Logistics on How to Stream Video
There are four main steps that you need to follow when starting with video streaming.
Choose the recording hardware
An easy way to start with video streaming is to use your phone. You can still get good audio and video quality and test during the initial phase.
However, if you want to be more serious as a brand, you will need to look at the recording hardware that will make your video streaming more professional.
You don't necessarily need the most expensive equipment but you still need a camera and a microphone. You can still use your camera's built-in microphone but they are not always of great quality so investing in an external microphone can be useful.
Use encoding software
Once you are set with the recording hardware, it's time to look at the encoding software. These are the tools that will get your video ready for streaming. There is a wide range of hardware encoders and software encoders, from free options to very expensive ones.
If you're still unsure of your video streaming objectives, you can explore a free option to get started.
Check your Internet connection
This is a very important step. Your video streaming relies on your Internet connection. Before you get started, you need to check your Internet connection and its bandwidth. 
Your content is transferred from the encoder to the server based on your upload speed. You don't want to start with buffer issues that can affect the quality of your video stream.
Keep in mind, it's not necessarily the Internet speed that will determine your success but also the stability. A stable connection can help you be consistent with your video streaming even if it's not the fastest in the market.
Pick the hosting platform
This is another important step. You want to decide where you'll host your video files. There's no need to host the video on your own site. It can take a lot of space and make your hosting options more expensive.
Instead, you can pick a hosting platform that can make your video streaming easier.
You can start with one of the most popular options like Youtube, Facebook or Twitch. The choice depends on your target audience and how you're planning to use the video.
You can also create your very own TV channel and host the videos through Viloud. 
How to Create Your Own Streaming Internet TV channel
If you are ready to create your own streaming channel, we can help. Viloud allows you to create your own TV channel, either as linear TV or video-on-demand.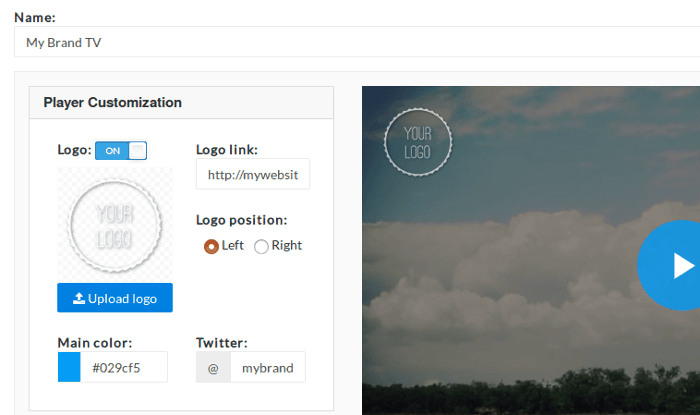 Viewers can either watch the same content at the same time or they can have the choice of watching the videos they want.
Branded TV channels have become a very popular option and luckily, it's not difficult to set up one on your own.
All you need is to upload your content and decide on the sequence of its streaming. 
You can even include your Youtube playlist if you want to host your videos on other platforms.
Final tips to consider
Content creation takes time. But it can also open up new opportunities. Video streaming is more popular than ever and it's the right time to explore how it can benefit your brand.
Here's what you need to remember when you are about to stream your videos.
Before you start streaming make sure you familiarise yourself with the equipment. Monitor your Internet connection to know your average upload limit. Test your content and the videos that you want to create. The earlier you test, the easier it gets with practice.
Set up an engagement plan
Video streaming can be more successful if you make it interactive. Even if it's not a live stream, you still want to keep your viewers engaged. You can even encourage them to do some sort of call-to-action in the end (visit a link, subscribe, etc). Come up with an engagement plan in the beginning and review it as you create more videos.
Create a promotion strategy
Having a video streaming channel is not enough if nobody knows about it. Think of your strategy and the channels you can distribute your content. Start from your website and include email and social media to the marketing mix.
You don't need to rely on your website's content anymore to promote your brand. Video streaming is easier than ever so why not try it out on your own?