Viloud is the cloud playout platform you were looking for
Viloud is a cloud playout platform / tool with which it is possible to create an online TV channel in a fully customized and programmable way, with the advantage of allowing the live transmission of linear signals (live linear) anywhere from content on demand (VOD).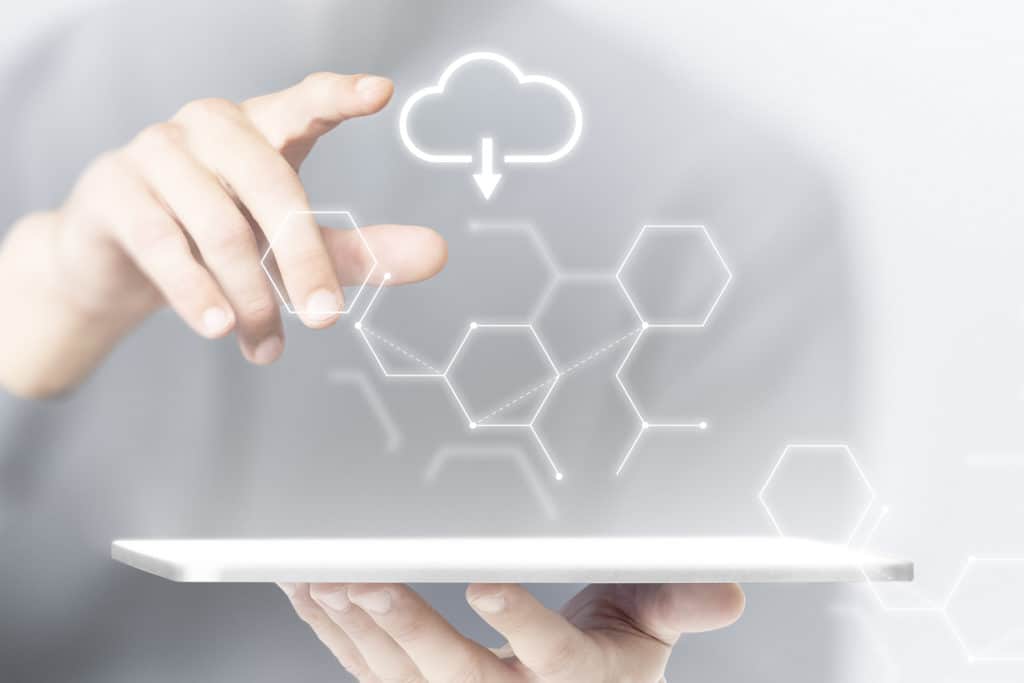 We are a video platform with which you can create a linear TV channel for your brand. Your video will be active 24 hours a day, 7 days a week. In addition, you will have the ability to stream content from anywhere with powerful playback software.Thousands of brands already have their own TV channels thanks to our cloud playout services. Don't miss the opportunity to engage your audience through a personalized player. Viloud has become the first choice for thousands of brands and professionals looking to broadcast their content through the network. It is a versatile and powerful solution that offers many possibilities.
Making your content known is much easier if you have the support of a video platform that supports you and helps you grow professionally by attracting new audiences to your channel in a simple way. Here are all the advantages of using Viloud as of today. Many companies already enjoy them and you can do the same.
Platform with aggregation capacity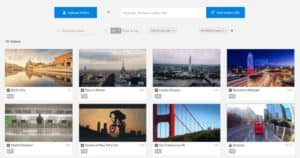 Our video platform supports a multitude of formats from different sources, from our own hosting to links from an external CDN or links from Vimeo or YouTube, among others. Once added, it will be very easy to schedule them to be played at certain times or, if you prefer, add them as a playlist to be broadcasted one after the other.
Viloud supports all major video formats, including .mp4, .mov, .m4v, .webm and .ogv. It is also possible to upload content from proprietary hosting and live streaming protocols such as HLS (.m3u8).
Scheduling of content by schedules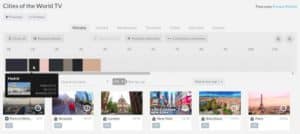 Viloud platform offers the possibility of scheduling content by time, i.e., programs can be scheduled at predetermined times in a daily or weekly format, so that the service itself takes care of broadcasting them for the enjoyment of the audience. This is a function that offers many advantages, since it significantly reduces the time of work and attention, being able to schedule content in a very intuitive and simple way through a clear and concise user interface, in which each function is clearly detailed to offer the greatest simplicity.In this way, you can leave the next broadcasts duly scheduled and not worry about them, since the platform will automatically make them be played on the date and time indicated. It has never been so easy to have an online TV channel.
Insertion of the video player anywhere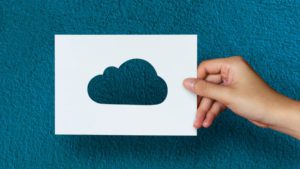 With Viloud you enjoy all the options to share your content wherever you want, allowing you to insert the video player in any website, a clear advantage over other services with more limitations.This way you can enjoy all the options to share your content, either by embedding the player in the website or in an application. In addition, if you prefer, you have the possibility to live stream the content in real time to Smart TV applications, such as Apple TV, Roku TV or any other of the available web TV channels. Thus, the possibilities are even greater and a larger audience can be reached, growing the potential audience of each channel by expanding the broadcasting possibilities.
Linear and on-Demand Channels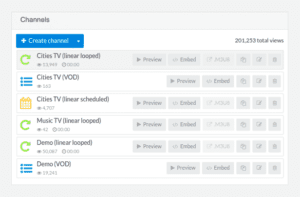 Our software allows the creation of linear channels so that each and every one of the viewers can enjoy the same content simultaneously and publish it wherever they wish, but it is also possible to create on-demand channels so that the viewers themselves can interact with the playback controls and manage the created playlist as they wish.
Live broadcasts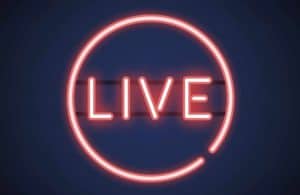 Viloud allows you to broadcast live, in real time, at any time you consider appropriate, so you can interrupt at any time the broadcast of the linear signal to offer live content. In this way, even on the spur of the moment, a connection can be made to offer new content to the audience, without the need for prior programming.
Content export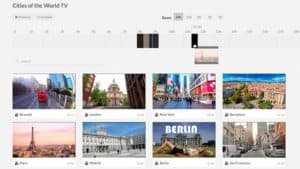 With our cloud playout platform it is possible to get an m3u8 signal from the channel created in Viloud, which at the same time allows sending the video signal to any other platform with HLS playback capabilities, such as Apple TV or Roku TV.
Fully cloud-based platform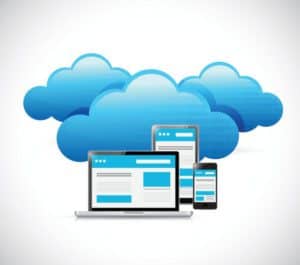 Viloud is a cloud-based video playback platform. As a content owner, it is enough to subscribe to the service to be in charge of the self-management of linear channels in a very simple and intuitive way, from the browser itself.
You can start from a single channel or opt for unlimited channels depending on the chosen subscription plan, and you can choose a customized and embeddable player, video hosting and the ability to stream live with HLS.
Try our Cloud Playout Platform for FREE
Sign up and get a 14-day FREE trial