What is Live Linear TV Streaming and How to Create a Linear Channel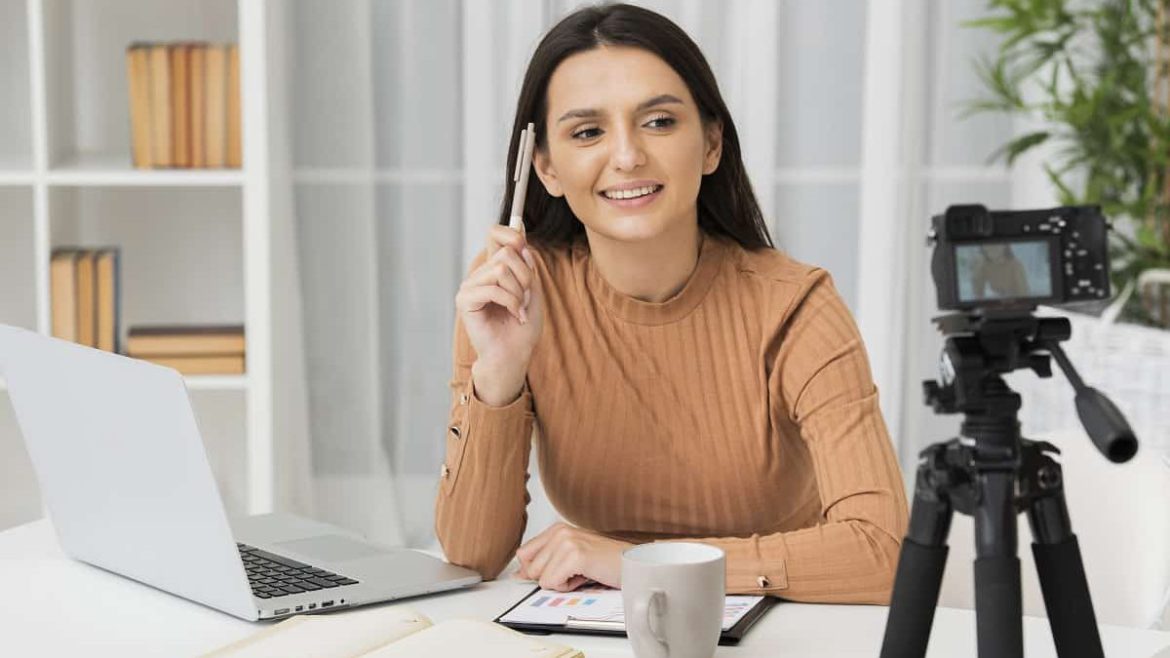 High-speed internet has completely defined the concept of "watching TV" and entertainment in general. Nowadays, watching shows, sports events, and even movies in OTT (Over-The-Top) platforms we access over the internet from on-demand services like Netflix to Hulu TV and live linear services like Sling TV and fuboTV, among others. Nowadays, we have various means to streamline content preparation, production, and distribution from anywhere in the world. So, running a live linear streaming channel is now more accessible and affordable than ever. 24/7 live linear TV is now not only for big enterprises and broadcasting stations, but literally, anyone can now start their linear channel in a relatively short time. In this guide, we will discuss all you need to know about starting an online linear live TV channel, but let us begin by discussing the very basic: what is live linear streaming?
Are you wondering what linear TV is?
Want to learn everything there is about this form of television broadcasting?
Television has come a long way over the decades. It started as a new form of entertainment changing the way we consume content.
Since then, we have reached the stage that we don't just passively consume content but we are also able to broadcast it on our own, be it as a live tv or through streaming services.
In this guide, however, we are looking at linear TV and everything you need to know about its future.
First of all, what is linear TV?
What is Linear TV?
Linear TV is a different term for what we know as traditional television, as a matter of fact. The term refers to the broadcasting that has been taking place to our households for many decades now.
It is also known as cable television and in the traditional linear TV, the schedule is delivered to the audience at a certain time via cable or satellite. In other words, it's what we traditionally know as television in its main form through the years.
On Viloud | Video terms glossary
What's the difference between linear TV and on-demand TV?
Linear is not the only form of TV broadcasting anymore. On-demand TV has been on the rise while advanced TV is also a term that we get more familiar with.
How do we define all of them?
Linear TV is the traditional way of watching TV with viewers tuning in to watch a program at a scheduled time. Linear broadcasts run in real-time, showing the same content to everyone who tunes in to receive it.
Any other form that is non-linear is part of the umbrella term 'Advanced TV'.
Advanced TV is a term that involves all forms of non-traditional TV:
On-demand TV: this is a non-linear way to watch the content of your choice at your own pace. It is non-linear as viewers have the choice of streaming content whenever they wish. On-demand TV has been on the rise as more viewers enjoy the power of choice when consuming content.
Connected TV: this is a term that includes TVs that are having an Internet connection. It can include smart TVs and gaming consoles that allow you to stream online content. The process of streaming online content without the need for a traditional TV service or subscription is the so-called Over-the-Top service (OTT).
Programmatic TV: Programmatic TV is also known as Addressable TV and it refers to the process of allowing advertisers to purchase audiences based on segmentation. Different TV ads are delivered to different households to fit custom profiling and interests.
All of these definitions remind us how linear TV is changing. It's useful to know all the different forms of TV broadcasting and consumption to find out what's best for you and your brand.
Leveraging The Advantages of Linear Format
There are two core advantages of the linear TV programming format when compared to the on-demand counterpart. We have discussed the first, which is option paralysis, further above. If you've used a VOD service like Netflix in the past, chances are you've experienced getting overwhelmed with the abundance of shows available on the platform.
The second benefit is that VOD content is much harder and much more expensive to build in the long run. A VOD platform's subscription-based pricing model won't be justified if it only has one or two interesting content, so these streaming platforms have to invest in a lot of shows covering various niches. This is why Netflix invests billions in content, and why until now, Netflix is still losing money.
Linear TV channels should leverage these key advantages and create relevant content to please the ideal audience, here are some techniques we can use in linear TV programming to optimize audience engagement:
Hammocking: a technique where a 'weak' or relatively new show is sandwiched between two popular shows, just like how a hammock hangs between two strong trees. Viewers tend to stay with the network rather than switching channels between the two strong shows. This can help the new show to become more popular in the long-run.
Tent-pole: a show or film that supports the linear channel's financial condition. So, weaker shows are scheduled around this tent-pole shows to boost these weaker shows' performances.
Cross-program: connecting two shows together, for example by showing different shows that feature the same lead actors back-to-back.
Hot switching: as the name suggests, this technique is about eliminating the pause between the end of one program and the start of another program, especially during prime time. The idea is fairly obvious: by eliminating wait time (even the credit roll), we can immediately get viewers attracted to the next show before they can switch channels.
Theming: grouping together some shows that are centered around the same theme, for example, several true-crime shows shown within a certain time period.
Marathons: as the name suggests, showing several episodes or even the whole season of popular shows at one time. This method is effective in capturing loyal fans' attention for several hours. Marathons often take place on weekends and during holidays.
While there are various other strategies to try with the long history of linear TV programming, the above techniques are still some of the most effective available today.
Linear TV Programming: Challenges
Linear broadcasting is here to stay, but it's quite obvious that there are some important challenges in linear TV programming for 2020 and onwards. Below, we will discuss some of the important challenges we should pay attention to, as well as the potential solutions for each challenge.
VOD Content
It's no secret that VOD (Video on Demand) streaming service is the biggest challenge to traditional linear TV, as well as linear streaming services delivered over the internet. Back in 2018, a study suggested that Millenials and Gen Ys spend more time watching Netflix than all BBC channels combined together.
Netflix, along with other streaming services like Hulu and Amazon Prime Video is obviously the biggest challenge to the live linear TV model. Not only do they provide flexibility in allowing their audience to watch their favorite shows without the constraint of a schedule, but they also offer some of the best content available today.
Shows like Stranger Things, Dark (Netflix), Star Wars and MCU shows (Disney +), and The Handmaid's Tale (Hulu) are part of the reason why these streaming services are the audiences' favorite nowadays.
Competing for attention
Still related to the above, with the availability of thousands of interesting shows on Netflix and millions of free video entertainment on YouTube and other platforms, it's obviously more difficult for the linear TV channels to get the audience's attention.
More promotions for the linear channel is necessary, and we can no longer be passive even if our linear content is good. We have to be active in promoting both our channel and our content, participate in social media where our audience gathers, and so on.
Without heavily communicating our channel's presence and investing in attractive content, we won't be able to attract their attention.
Relevant and up-to-date 
Another key challenge for linear TV programming in competing with on-demand services is to stay relevant and up-to-date. This is not only about content, but also on the user interface, promotional messages, and any other aspects where the linear TV channel meets the audience.
On the other hand, linear TV programming should leverage the natural advantages of a linear TV over these VOD channels, such as the ability to offer time-sensitive and local content (i.e. local news), live events that can attract big audiences (i.e. live sports events, Grammys, etc. ), and create content for older audiences that haven't (and might not be interested) in making the switch to digital.
Catering to your target audience
To effectively capture your target audience's attention, it's very important for the live TV channel to really understand their target audience. Since linear TV programming is about 'pushing' our content to the audience and not giving them any choice, it should be proactive in introducing new and relevant content to the target audience.
Again, we should leverage the linear TV's advantage in surprising people and help our audience discover something new. In VOD streaming, it's much harder for the audience to find new content, and they might need to make the research review sites and so they have to go outside the streaming platform.
In a linear TV experience, we can 'push' new content to our viewers and let them experience it right away.
Why linear television is here to stay
There is a misconception that linear TV is dying but nothing is further from the truth.
According to Nielsen's Total Audience Report, for example, linear broadcasting is still relevant. Although, as the report states:Time spent with the television set is shifting, with consumers spending more time using TV-connected devices to stream content, they do so in addition to traditional, linear TV.
What's important for the evolution of linear TV is to acknowledge the challenges and the opportunities that come along as the broadcasting habits change.
People are still watching linear TV
People of all ages are still watching linear TV despite the competition from streaming on-demand video.
This means that linear TV channels are still useful for your brand. Traditional TV allows people to unwind and focus on content that is broadcasted in a way that does not require further decisions from them.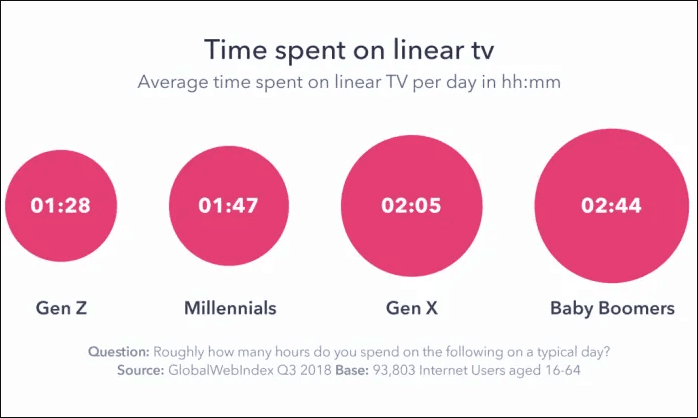 Beating option paralysis
The rise of online on-demand content and subscription services is opening up a new world of content consumption. It is also creating an option paralysis for viewers who need to decide what to watch.
Putting the viewer in control is not what all viewers necessarily need. When streaming gets complicated, linear TV reminds us how it can still stay relevant with content that viewers would happily watch.
The need to stay relevant
A challenge that linear TV needs to address is the need to stay relevant. As subscription services and digital content grow, linear TV cannot stay behind.
There is an indication that traditional TV channels are already exploring new ways to stay relevant to blend the two worlds.
For example, linear TV has the benefit of delivering content in a way that is still familiar to everyone. It can cover big events in real-time and it can also go hyper-local to help viewers who want to stay up-to-date with everything that's happening.
The best way to stay relevant is to tap into the opportunities that these advantages offer to look at the future of linear TV.
Understanding consumers
Linear TV in its traditional format may have limited measurement compared to other forms of broadcasting.
The lack of measurement can lead to the challenge of not knowing your consumers.
Luckily, the growing synergy between programmatic and linear TV brings out new opportunities for using data to learn your audience.
TV publishers, brands, advertisers are able to bring the two worlds together to make linear TV relevant in a more digital world.
Blending linear TV with OTT
The biggest opportunity for linear TV is to embrace OTT services to modernize its traditional form.
What linear television can learn from OTT:
Video content is more popular than ever
Access to multiple devices can make linear television more appealing
Linear TV can still benefit from connected TVs
New opportunities open up for brands that jump into linear TV
Most importantly, linear OTT services can future-proof traditional TV broadcasting.
They are already opening up new opportunities to brands that want to start their own TV channels and they can also improve linear advertising through programmatic TV.
So here's what you need to know about linear advertising.
Learning more about linear advertising
Linear television advertising had been traditionally about placing ads as part of the broadcasting schedule to run at a specific time.
The model had been successful for decades now but as times change, there is a growing need to keep up.
Programmatic TV can be the answer to this challenge. Media is becoming more digital so as linear TV is trying to adjust, there is an opportunity to improve the ad buying process.
Linear advertising can become even more appealing for businesses with the use of an automated and data-driven approach that comes from programmatic. You can even expand your audience reach to deliver the right ads to the right people. After all, you're also saving time. No more manual buying and selling for ads that take too long to sort out.
Programmatic linear broadcasting allows instant data access, which makes it easier to get a better return on investment. A data-driven approach can help you optimize and adjust your bids to ensure that your campaign stays successful.
According to FreeWheel's report, 74% of advertisers think it's important or very important to set up integrated linear and digital video TV/data solutions.
As programmatic linear TV advertising becomes more relevant, more agencies will need to work on holistic strategies that consider all channels and forms of broadcasting in their planning.
So what's the future of linear TV?
Linear television is still important. What's more, it's now easier than ever to create your own linear TV channel with video platforms like Viloud. You can even stream your content to other players or smart TV apps like Roku with a cloud playout platform.
Looking at the future and what it means for television broadcasting, we are expecting to see programmatic integrated more into linear inventory.
More agencies will look for cross-platform solutions while exploring new ways to reach their audience.
It's an interesting time to be part of, especially if you are ready to set up your own channel for your brand!
Why Live Linear Streaming Over VOD?
We all know how on-demand content is the preferred medium nowadays, especially for younger audiences. However, live streaming and live linear streaming are rapidly gaining momentum in the past few years.
Live linear streaming and VOD can offer different experiences for the viewers and can engage audiences in a different way. A live linear experience can provide the following advantage:
Dwell time: in live linear streaming, the audience will tune in to a channel if they like what they are currently watching and/or when they are waiting for the next show. 24/7 live streaming can be more effective in capturing our audience's attention.
Advertising: In the monetization aspect, there are also more chances to show advertising in live linear streaming when compared to on-demand content. In VOD content, we can only present ads when the audience clicks on a specific show, while linear provides us with a more reliable way to generate ad revenue.
People demands live content: The demands for live content are still increasing. With a live-streaming content, you are giving users the opportunity to interact with your content immediately. At the same time, live content provides a sense of surprise that is otherwise unavailable in on-demand content.
How To Start a Live Linear Channel
1. Planning Your Channel
Before anything else, you should start by planning your channel: what kinds of content will you broadcast? What kind of schedule? Start by considering the following factors:
The type of channel this will be, whether it's a sports channel, entertainment, religious, or a mix of everything. In general focusing on a single niche is the better approach so you can better target a specific audience.
The distribution of the live linear channel, whether it's going to be OTT only or if you are also going to distribute them over cable/satellite
Content development. Remember that in a live streaming channel, you can stream a prerecorded content (including content you purchase from third-party sources). Figure out how much budget is available for content production.
Whether you will also include on-demand content or whether this is going to be a 100% live linear channel
Arguably the most important part here is to determine the niche you are going to focus on. Begin by conducting proper market research to figure out your target audience. The idea here is that your channel should provide value for this target audience.
Here are some of the common niches you might want to consider:
Sports niche: while broadcasting sports events can be expensive with license fees, you can cover other things like discussions, commentaries, and so on.
Children niche: a huge niche with various topics to discuss and a massive market.
Education: you can cover various things from documentaries, science content, and so on
Entertainment: arguably the most popular niche but also the most competitive. You can cover various things from gaming, movies, music, and so on.
Religion/spirituality: a relatively small niche but has the potential to grow a loyal audience.
After you've figured out your niche, you can start planning what kind of content you are going to develop, your streaming schedule, and so on.
2. Preparing Your Equipment
Once you've figured out at least a basic plan for your channel, you can start planning for what kind of equipment you'd need based on the content you are going to produce.
In general, however, here are the important equipment pieces you should consider:
Video source
You can't have video content without a video source.
The video source here can be your camera or prerecorded video file, but most likely you are going to need at least one decent camera.
Nowadays, cameras come in various different price ranges and types, and even your laptop's built-in webcam and smartphone cameras are now pretty decent in quality. There are pretty decent camcorders between $400 to $800, and there are also professional-grade cameras ranging from above $1,500 to $25,000.
Audio source
While it's possible to stream your video content without any audio at all, obviously it's not ideal, you'll need at least a background music to accompany your video content, which is a type of audio source.
The audio source can be a microphone, music file, prerecorded audio file, and so on. Various studies have shown that sound quality is just as, if not even more important than video quality in video content. When, for example, a live stream video stutters for a few seconds, most of our audience would be okay. However, low sound quality will cause a high bounce rate.
Fortunately, nowadays we have a lot of affordable options for microphones and other audio equipment. Also, most decent-quality cameras now have usable built-in microphones, and there are various microphones under $1,000 and even under $500 that are broadcast-ready.
Obviously there are also more expensive, professional-quality microphones you can get, and if you are serious about your investment, you might as well get at least one high-end XLR microphone.
Video Encoder
If you are using standard cameras (not broadcast-ready internet cameras), you don't really get a video file after shooting your videos, but instead, you get a stream of image files. The thing is, we can't use these image files right away in live streaming. This is where an encoder comes in.
A video encoder will convert and compress your files so they are not saved as individual images but as a single, seamless video file. Why do we need to encode our video? Here are some key benefits:
Compress the video file into a smaller size, which is very important to ensure a smooth streaming experience without buffering.
Change resolution or aspect ratio of multiple video files.
Enhance audio/video quality.
Change audio/video format when required.
Change streaming bitrate.
Ensuring the video/audio file compatible with specific devices and specific software.
With that being said, we can choose between two different types of encoders: software or hardware.
Software encoders are programs running on your computer or even smartphone. OBS Studio is a common and popular software encoder option, and it is also free. There are also other popular options like Wirecast or vMix, among others.
While software encoders are now pretty decent, hardware encoders are typically more reliable and durable. Considering the burden of a 24/7 live linear streaming, you might want to invest in a decent-quality hardware encoder to ensure quality. Also, being a dedicated device, a hardware encoder typically offers better overall latency, which is very important for a live stream.
Live Linear Streaming Video Hosting
Another important thing to consider here is to choose a video hosting platform that offers live linear streaming capabilities. Free platforms like YouTube and Facebook Live, for example, aren't sufficient for live linear streaming purposes. They are pretty decent at hosting on-demand video content, but a non-stop 24/7 live linear streaming is another story altogether.
Using a professional-grade live streaming platform like Viloud is recommended. Not only Viloud will give you a more reliable live streaming video platform for your 24/7 linear streaming needs, but you also get more control over your content, schedule, and video placement.
Different platforms will provide different features in creating your live linear channel. Also, make sure your video hosting platform is compatible with your encoding system (whether it's software or hardware). Different hosting platforms offer different streaming protocols. Viloud, for example, uses HLS (.m3u8) where you can stream your content on your website (via embedded player), apps (native smart TV and mobile apps), and on third-party platforms like Apple TV or Roku.
Make sure to choose the most reliable video hosting platform according to your budget that also supports the rest of your linear channel system.
Conclusion
Starting a linear TV channel is now more affordable and accessible than ever, but at the same time it's now more competitive and the demands for proper quality audio and video in your stream are increasing.
So, make sure to choose a proper streaming platform that offers consistent streaming quality and overall reliability. Also, choose the right live streaming equipment that can support you in producing high-quality content.
Interested in giving Viloud a try? You can sign up today here for our free trial (no credit card required).