Create an online TV channel for your brand.
Meet Viloud, the easiest and the most affordable online video platform for creating and distributing live, linear, FAST and on-demand TV channels.
Join thousands of amazing brands already running their own online TV channels with Viloud
How to start a TV channel with Viloud
What Viloud can do for you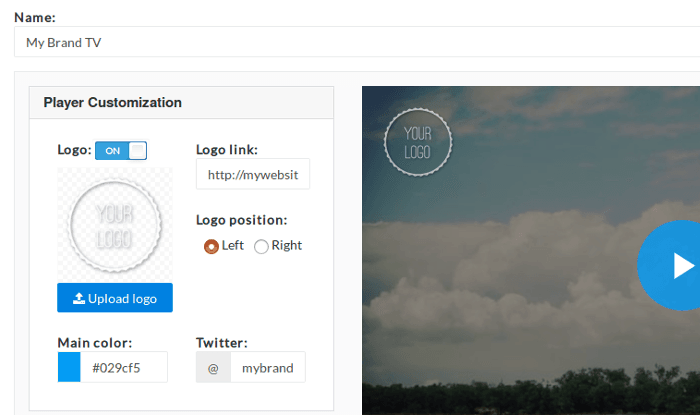 Engage your audience with a custom TV channel
Channels are simple to create, no coding knowledge required. Customize the player with your logo, social media links and your brand color keeping the style of your site.
Channel types:
Build a live linear scheduled channel
Viloud makes it easy for you to build a 24/7 online linear TV channel with continuous programming. Schedule your content at predetermined times on a daily or weekly basis, simply by dragging and dropping your pre-recorded videos into the scheduler grid.
All your audience will see the same content at the same time, just like a linear TV schedule.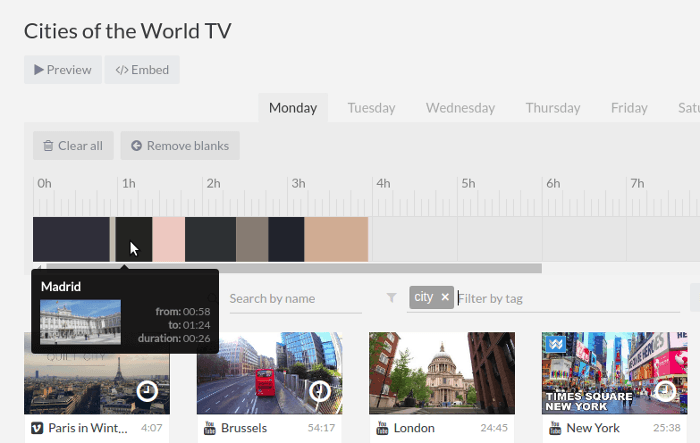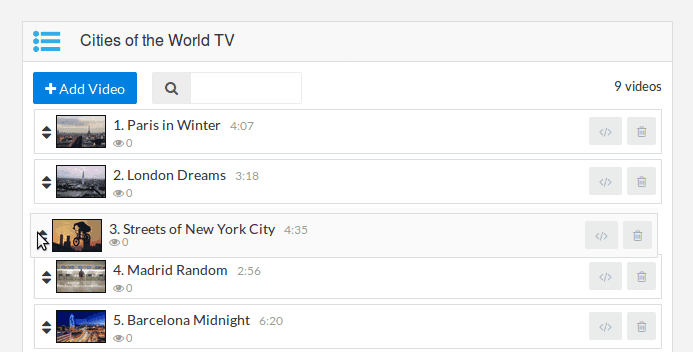 Create your ideal VOD channel with ease
Create an on demand channel so that your viewers can interact with the player controls, jump to the next video or to a specific video in the playlist.
You will get a unique URL for each video to share driving more traffic to your site and helping your visitors spend more time with your brand.
Collect all your content in one place
Upload videos from your computer to be hosted in our cloud or add video links to your preferred video hosting or CDN provider. Tag them and add them to the channels.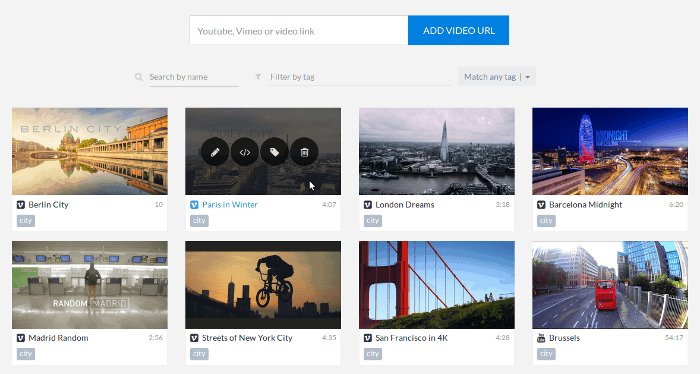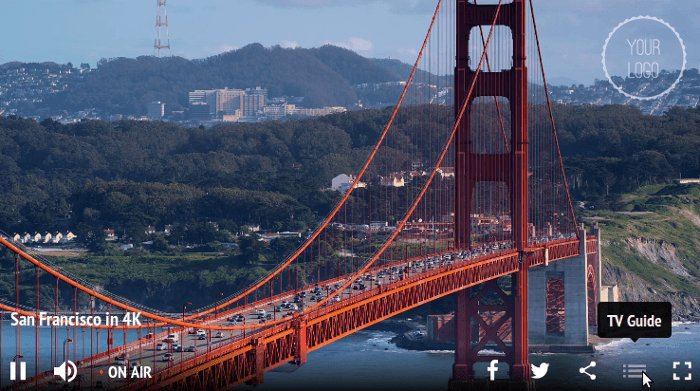 Embed the player on your website or web app
It's super simple to embed a TV channel, simply paste the embed code on your site and any changes you make will be automatically reflected, without having to replace the code.
Viloud Player is designed and developed to run on all the platforms as web, Android, iOS and Smart TV's.
Live stream your content anywhere
Want to create your own live TV channel on an OTT platform and broadcast it to the world?
With Viloud, you can create an M3U8 file and 24/7 live stream your content to wherever you want – Your own player, native mobile app, smart TV apps like Roku TV, Apple TV or other OTT platforms, your choice.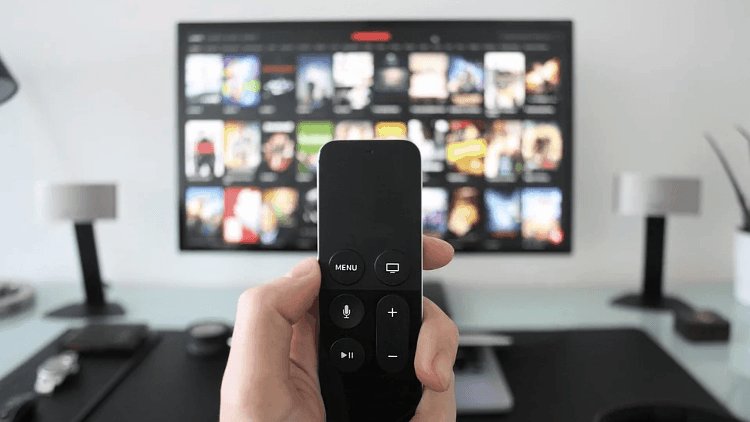 Viloud is an online video platform allowing brands to create linear and on-demand online TV channels from multiple sources and embed the video player on any website or web app.
Viloud provides brands with an easy, self-serve, and the most affordable way to create video and TV channels, get 24/7 video streaming, schedule shows, and broadcast video in real-time on their websites.
Why choose Viloud.tv for your online TV channel?
First of all, Viloud's online TV channel creator and video platform is incredibly easy to use. Creating a channel and embedding the player can take no more than just a few minutes and you need no tech skills to do it. Just paste the embed code into your site and you're done.
With Viloud, you can broadcast your content in a linear or on-demand way through a custom embeddable player. You can choose whether you want to broadcast shows as linear TV, much like in traditional television or allow users to choose what they want to see to engage them in your preferred way.
You can also create an HTTP stream and broadcast your channel wherever you want, be it your own player, a native mobile app, smart TV apps like Roku TV, Apple TV or other OTT platforms.
Viloud lets you bring all your content together. You can upload videos from your computer or add them from your own hosting platform and even simulate live streaming on your website.
Finally, with Viloud, you know exactly how your audience interacts with your content with powerful, real-time analytics.
Viloud is feature rich and easy to use Pros: Viloud is easy to use with a wide range of features and options like scheduling and customization to make my channel uniques and add the experience for my viewers. Cons: As your channel grows you have to constantly pay for more storage and bandwidth so that can be costly over time.
Muy recomendado Overall: Conseguí emitir mi contenido como esperaba. Cuando retome el proyecto volveré a usarlo. Pros: Después de haber estado probando otras alternativas, con Viloud conseguí todas las funciones que buscaba y sin ningún inconveniente. Cons: No he echado en falta nada, tuve una duda, contacté a soporte y me contestaron el mismo día.
Una herramienta, fácil, completa y resolutiva. Overall: Utilicé Viloud para añadir un reproductor de video a mi página web. Desde el principio fue super sencillo y conté con el apoyo del servicio de soporte. Totalmente recomendable. Pros: Me ha resoltado muy llamativa la facilidad de integrar el reproductor en cualquier sitio web. Además es muy intiutivo, cómodo y sencillo de utilizar. Cons: No existen contras. Todo el proceso ha sido muy rápido y sencillo
The perfect platform for live streaming Pros: Viloud is easy to use and it takes mere seconds to set up a live stream. We have hosted perhaps 50 or so live streams through the Viloud platform and we've never had a technical issue with the stream itself, or with the archived versions. Overall Viloud is a solid live stream partner for our education website and I highly recommend them. Cons: I have nothing bad to say about Viloud. The product is great and the customer support is quick and helpful.
Verified Reviewer
2023-03-18
Viloud - EuTxo Overall: Soy muy feliZ con Viloud. Pros: Programar vídeos para diferdntes días con una herramienta fácilcómoda. y Cons: El programador dura una semana y limita mucho las funciones del día a día.
Expanding the reach of your business? Overall: Branding, Advertising, Niche authority, and product monetization through advertising. Pros: I recently used Viloud for my business and I'm extremely impressed. I have eight channels on Roku and growing several online. It is incredibly easy to use and offers a wide range of features to help create custom linear television channels on platforms like Roku and online. The interface is intuitive, making it simple to manage your content and customize your broadcast. I would highly recommend Viloud for any business that is looking to expand its reach with a professional-looking TV channel. Cons: I would like more options as far as platforms but it's not a big deal because it's on their roadmap. For me No cons
What a great tool! Overall: I've worked with their support on a minor question and they were very responsive and quick to resolve my misunderstanding of the product. Pros: It's very easy to set up, the live streaming integration to my multistream, and how easy it is to publish on Roku! Cons: I'd love to see more integration with existing YouTube channels and be able to import the videos I publish on YouTube.
Viloud as a Streaming Platform Overall: I find that their customer service is excellent and that I don't have to wait very long to get my questions answered. Pros: Viloud as a Streaming Platform will be very useful for my streaming videos to my website and my other social media platforms. I plan on using the App to set up a Roku Channel. Cons: I find that because I'm not technical, I have to learn a lot of new things at the same time and that can be frustrating and very slow in setting up my channel.