Meet Viloud – Your New HTML5 Video Player
Built in HTML5, fully responsive, and running on any platform – web, iOS, Android, and Smart TVs, Viloud is the HTML5 player for you.
Amazing Brands Use Viloud HTML5 Player Already
Why Use Viloud HTML5 Player?
Viloud is a fully-customizable video player, built for anyone wishing to share their video with the World. Get everything you need to publish your online video – support for HTML5 and all modern streaming formats. Live stream video with adaptive streaming, add content from multiple video sources like YouTube, Vimeo, or direct video links and launch linear or on-demand TV channels for your brand.
Viloud supports video playback on any platform, be it any modern browser or a mobile device.
Features
Done in HTML5
Viloud was built in HTML5, offering you all the power and flexibility that comes with it. Enjoy a fully responsive experience, full browser support, great performance on any screen size and device, be it mac or windows, an iOS or Android phone or tablet, or a smart TV.
Supports Multiple Video Formats
Viloud Player supports a whole range of video formats. Upload your video files and host video with the Viloud platform, add content from YouTube or Vimeo or use HLS and DASH streaming protocols.
Check out the list of all supported file formats.
Compete Playback and Display Options
Viloud gives you access to easily configurable embedding options including autoplay, volume, show player controls, show the current title, show social share buttons, or open the TV guide on load.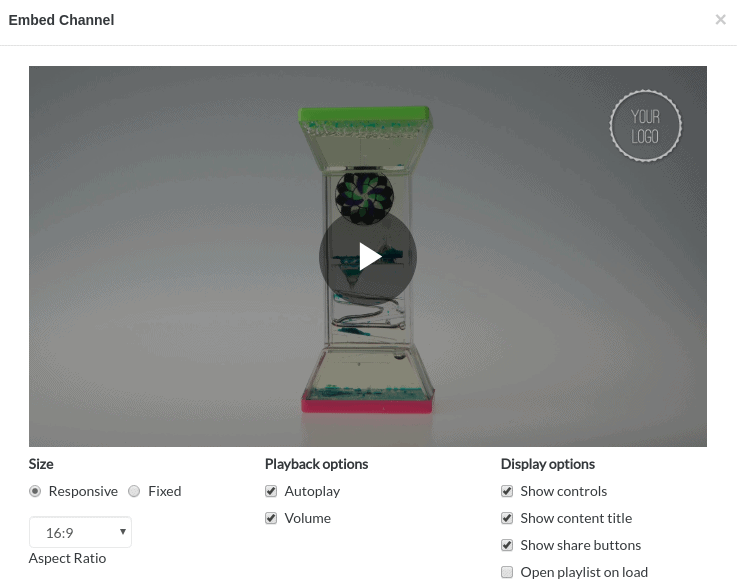 TV Guide
With Viloud, your viewers can see the playlist information for current and upcoming programming.
Player Customization
Customize the player with your brand colors and your own fly-logo to match it with the style of your website. (Available on Pro plan.)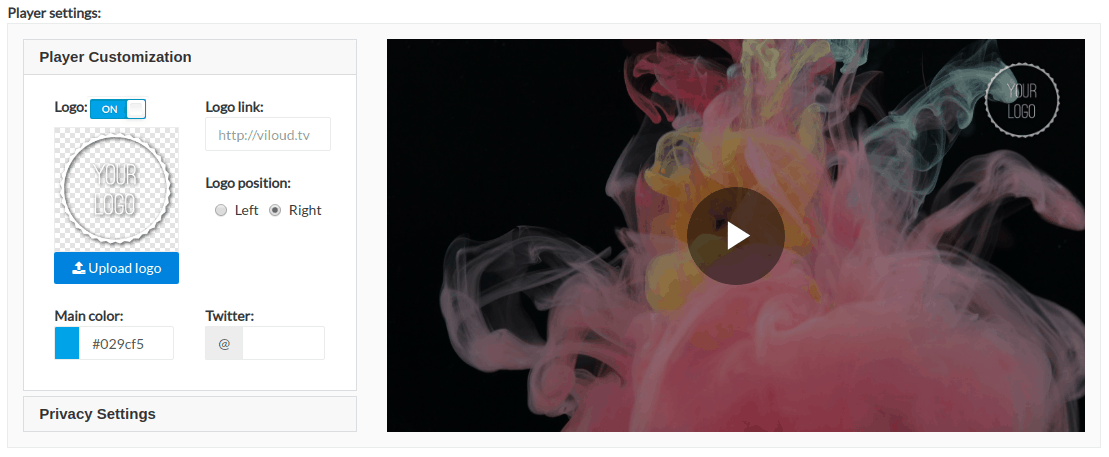 Advanced Domain Privacy Settings
Restrict embedding Viloud Player to specific domains only to prevent others from displaying your content on websites you wouldn't like it to appear. (Available on the Business plan.)
HTML5 Video Player FAQ
What is an HTML5 player, specifically?
An HTML5 video player converts almost all of the most popular video formats like MP4, MOV, M4V, OGV, and others to HTML5 format, popular with all major web browsers. As a result, you can display video formats on the website by embedding the player. The end result is your video content playing on a specific page or pages on your website and integrating perfectly with your brand.
Why Use an HTML5 Player?
The reasons are many. For one, an HTML 5 player allows you to add any video to a web page with just a simple line of code. You don't have to use any specific tags or code the player into the template. Instead, you include the player with a simple embed code, much like you would when adding images.
Another reason is the complete cross-browser compatibility. Neither you nor your visitors have to install any specific browser plugins to access the video content. The player works in their browser, as well as a mobile browser or a Smart TV.
Will the Viloud Player look like my website?
Yes. Unlike YouTube or Vimeo players, Viloud allows you to customize the player to match it to your brand. You can edit colors and add your company's logo to integrate the player with your brand perfectly.
(Please note, this option is available for users on the Pro plan or higher.)